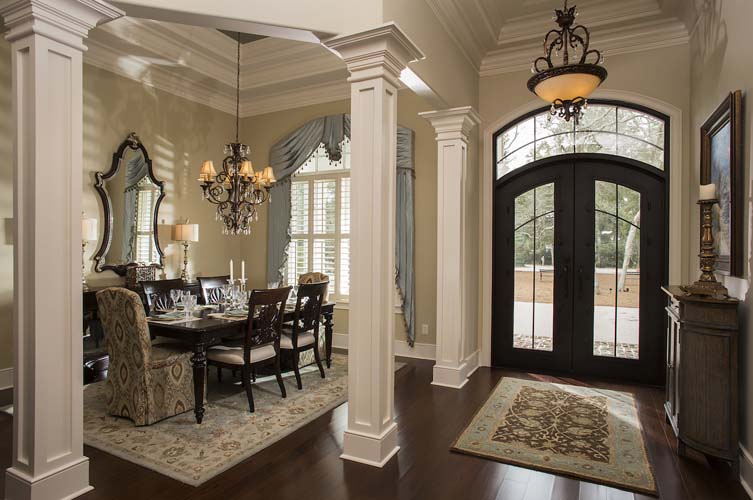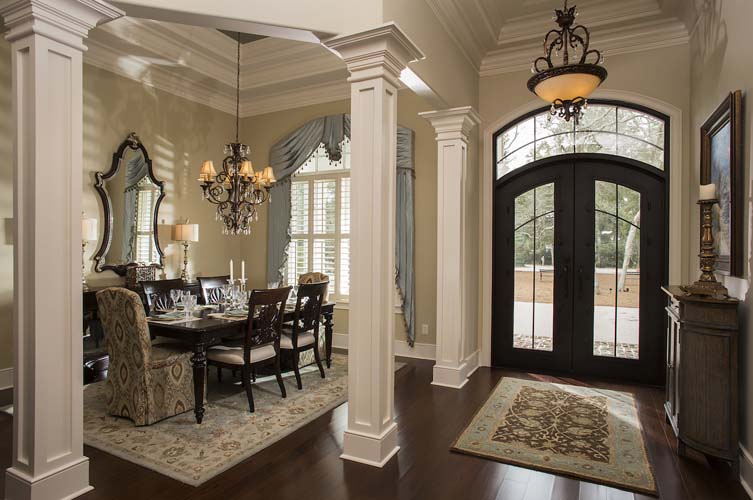 Garage? Check. Bathrooms? Check. Closets? Check. These fundamental pieces seem obvious in custom home planning. But some things aren't as obvious. Extra outlets in the kitchen for appliances on the counter? Not check. Babb Custom Homes wants you to have the home you love, love, love. This will require experience and also knowledge of current trends and anticipated expectations – all of which we have. Custom home planning is what we do, and walking homeowners through must-haves and probably-should-haves and ooh-I-hadn't-thought-of-that-haves makes us happy.
In addition to the basic components of a home – like windows, bedrooms, and kitchens – there are some other features that really need to be a part of any forward-thinking custom home planning.
Must-Haves
Taller Garages. The percentage of people driving SUVs is at an all-time high and many are quite large. The same goes for trucks. Even if you don't plan to have a large vehicle the next homeowner might.
Plenty of Accessible Outlets. More tables, more cellphones, more TVs, and more gaming systems requires more outlets. Considering that the number of smart devices is likely to increase as well, outlets are going to get pretty popular in the new home.
Large High-Efficiency Windows. Naturally light is in fashion, but even more so, environmentally friendly features are a trend that's here to stay.. We'll talk more below about extras, but high-efficiency windows are really standard. Plus, the return on investment is high.
Low-Maintenance Materials. From the siding, to wainscoting, to stainless steel appliances, people want components that are easily or less frequently cleaned. The technology has increased and the accessibility of these labor saving materials has increased, leaving home builders with fantastic options.
Great Lighting. This is a trend that will likely be around awhile and, frankly, homes without good lighting are tragically missed opportunities. With more efficient bulbs now, the long term cost is often lower than people realize. It's a cheap way to significantly improve the quality of your home time and the appeal of your home.
Storage, Storage, and Storage. It seems contradictory that in the midst of a trend toward minimalism that storage would also become so important. It's often because people like minimalistic design aesthetically but still want their items. For example, the number of cooking appliances like air fryers, toaster ovens, and large mixers are up. Ergonomically optimized, hidden, multi-use, handy storage is all the rage.
Open Floor Plan with a Great Kitchen. People still love the open floor plan because it's conducive to hosting, it makes the home look and feel bigger, and it maximizes space. For example, most people have gone away from dedicated, underused dining rooms and instead incorporate the seating into the kitchen area. The large, well-equipped kitchen is a must-have because, among other reasons, often more than one person is cooking at a time and the hosts want to interact with the guests while they prepare the food.
Environmentally Conscious Features. High-efficiency appliances, LED lighting, Low-E windows, energy saving HVAC, and added insulation are all great starts. For more ideas check out our blog post on environmentally friendly designs.
Probably-Should-Haves
Accessibility. Between the aging of the Baby Boomer generation and the fact that most millennials aren't investing heavily in real estate yet, having handicap accessible design is important. This would look like preferring showers over baths, wider doorways, a main floor bedroom and full bathroom, and a reduction in uneven floor levels and stairs, among other changes.
Future-ready Prep. Electric vehicles, solar capturing with battery housing, smart appliances and other tech – these require planning and infrastructure. It's much easier to incorporate these into the design now rather than to retrofit later.
Smart (er) Appliances. Many of the smart devices and appliances are not usually part of the builder's plans, but rather that of an interior decorator (which we also offer). But some components such as a motion-sensing exhaust fan or wirelessly controlled lighting are definitely part of the custom home planning.
Large, Walk-in Showers. These are stylish but also more convenient and helpful to people with mobility issues. Many home designers are choosing to separate the tub from the shower for these reasons.
Main Floor Bedrooms and Full Bathrooms. Ideally, there would be at least one bedroom on the primary floor. These can serve as guest rooms but also temporary locations for household members with injuries or surgeries, or anything by which navigating stairs is undesirable. Full bathrooms are nice for the same reasons.
Secondary Laundry Utilities. It's nice to have the laundry appliances on the same level as the bedrooms. It saves a lot of steps and it also promotes frequent and timely washing and drying.
Dedicated Pantry. Food and cleaning products are usually not aesthetically pleasing, so without a dedicated pantry, the in-kitchen storage is often less attractive and space wasting. Having a room with a closable door is highly desired. Many chose to keep their trash cans in there as well.
Ohh-I-Hadn't-Thought-Of-That-Haves
Delivery Boxes. Fireproof, waterproof, porch pirate proof, built-in storage spaces are starting to catch on. These are great for deliveries but also an easy way to get groceries into the house in some designs.
Outdoor Utilities. Covered patios and even outdoor kitchens and entertainment spaces are getting more and more popular. Those will need outlets and underground electric, gas, and water utilities and the necessary infrastructure. Better to do it up front.
Chutes. Laundry and trash chutes are garnering a little attention now. They are fun and they can be helpful for people with mobility limitations.
Larder Cupboards. These organizers are great for small items that need a singular place with easy access. Spices, for example, are often used in larder cupboards.They fold away or close to take up little space, but they save lots of space in other drawers.
Bullet-in House Speakers. A whole home speaker system makes communication easy, especially in larger homes. They also allow for easy entertainment with music and often have sensors that allow people to utilize them for one purpose in one room and for something else in another room.
Large Drawers. Traditional cabinets are not great if you need items from the back often. It's too easy to lose items to the depth of space. The design is also not efficient in that most of the cabinet storage is vertical, but the items are only on one plane, leaving lots of wasted space above. Drawers on the other hand can typically hold larger items and make finding items much easier.
Multi-use Entry Room. What some call a mudroom or utility room can function for many purposes. Sometimes people will have laundry utilities there, some have storage, and some use the space for their pets. Washing the dog on the way in the house is much easier than in the bathroom elsewhere. It's also nice to have the food, litter boxes, crates, leashes, and other items all in one place. They serve as great places to take off shoes and hang cold weather clothes.
Blurred Entryways. Having a transition between indoor and outdoor living spaces is gaining traction. These zero entry transitions are basically window doors that retract, like something from a futuristic movie. We wrote a touch about them in a recent blog post.
Babb Custom Homes thrives on walking you through the process of building your dream home. All good custom home planning starts with a dream that turns into a vision that turns into a plan that turns into a home. Well, we've been at this a while and we know a lot about the essentials but also the fun, trendy (or ahead of the trend) features and designs. Contact us if you're considering building a fantastic, custom designed home!