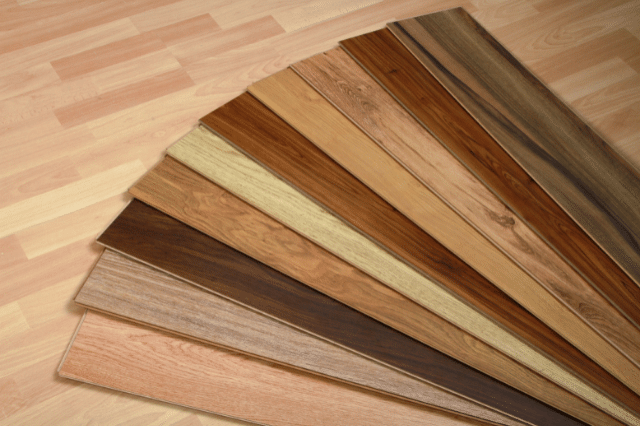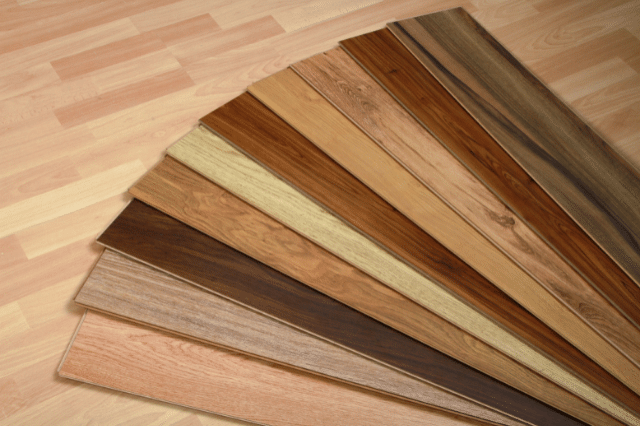 At Babb Custom Homes, we love discussing material and design options with our customers. Well, one of the most debate-worthy and critical topics concerns the many types of flooring. From the common to the exotic, if you want to find a material that accomplishes your goals and completes your vision, it's out there. We're going to provide a flooring guide to help narrow your research and also give real world advice from people with first hand experience.
Since there are so many different flooring types for different applications, the best starting point is to figure out your goals and criteria. Considerations like the anticipated moisture, traffic, and use, together with the attributes of the materials like maintenance, appearance, durability, return on investment, and costs all must be evaluated and prioritized. Here are 6 most popular types of flooring and how they match your overall home plan.
Linoleum
Made from cork and linseed oil, linoleum starts us off strong with many significant qualities:
Inexpensive
Easy to install
Eco-friendly
Durable
Low maintenance
Linoleum looks much better than the checkered or mustard colored look from forty years ago. Improved engineering has given us a current product that lasts for many years and looks closer to other more expensive materials. It's still susceptible to fading, damage, and moisture, and it doesn't do much for adding value to your home. However, as the benefits have increased, so has its popularity and be sure to research more about linoleum before you count it out.
Carpet
Ah, carpet, that old friend. Warm and comfy, aesthetically versatile and dynamic, don't sleep on this one for bedrooms and common areas. (See what we did there? Sleep/bedroom? Oh well, some jokes are just for ourselves.)
Improved stain resistance
Relatively inexpensive
Accomplishes the aesthetics of almost any home
Warm in visual and physical effect
Noise reducing
Improvements in stain-resistance and durability have made carpet a viable contender to the ever-increasing popularity of other flooring types like vinyl and laminate flooring. Carpet is vulnerable to wear in high traffic areas and it's still higher maintenance than harder, flatter materials, but there's nothing like the homey, quiet, warmth of carpet.
Hardwood
There's a reason the other flooring types attempt to mimic hardwood. It's beautiful. It goes with anything, lasts decades, increases home value, all while looking rustic, classy, high quality, and timeless all the same time.
Excellent aesthetic appeal
Durable
Great return on investment
Goes with most design schemes
Versatile applications (everywhere that isn't prone to moisture)
Hardwood is not cheap, nor is it easy to maintain or install (we'll take care of the installation), but for homes that require an extra level of enduring charm, hardwood is one of the best types of flooring.
Vinyl
Second only to obsolete LPs and faux leather car seats, vinyl applications have never been more popular, and for good reason. With the addition of luxury vinyl tile (LVT) and luxury vinyl plank (LVP), the products are stepping into charmed territory in the eyes of homeowners.
Easy to clean
Highly resistant to water
Durable
Versatile design applications
Low maintenance
High return on investment
Luxury vinyl can be costly, but especially in areas that attract moisture like bathrooms, mudrooms, or kitchens, vinyl is hard to top.
Stone and Tile
If you've ever dropped something breakable on tile, you know what we're going to say. It breaks. The same happens with people's bodies. Couple that with the tendency to be slick and you find the greatest weakness of both the tile and stone. A close second would be that they are usually cold on the feet. However, there are some serious benefits to these two materials.
Durability
Beauty
Low maintenance (especially tile)
Enduring style (stone)
High ROI when high quality options are chosen
Eco-friendly
While stone usually transcends fads and such better than tile, both are fantastic options for those often difficult moisture-ridden areas and anywhere requiring wear-resistant, versatile, and dignifying material.
Laminate
While it's not likely to replace the role hardwood specifically fills anytime soon, laminate is an excellent alternative for getting a wood feel on a budget, with a product that is resistant to wear and easy to install. Laminate has become common in homes for these and other advantages.
Affordability
Easy of installation
Wear-resistance
Aesthetic versatility
The major downside of laminate is its vulnerability to moisture. Continual improvements in engineering have increased the moisture resistance, and you certainly get what you pay for, but it can't match vinyl or the stone or tile surfaces when it comes to maintaining integrity.
We hope our little guide to flooring options has been helpful. We didn't have time to address engineered wood flooring, which is an excellent option, terrazzo, or bamboo. Looks like you're just going to have to contact us. We are eager to meet with you, dream with you, or anything that will help you establish your goals and vision. Babb's is here for you!